Department of Physics & Astronomy "Colloquia and Seminars" Series
2021 - 2022 Program
Virtual or R-150, Hilbun Hall, Mississippi State University
Fridays @ 2:00 PM
NB: Unless noted otherwise, Physics Colloquia/Seminars are held as mentioned above.
Jan. 28th, 2022 Dr. Prabhakar Pradhan, Department of Physics & Astronomy, Mississippi State University



Light Transport and Localization properties of Mesoscopic Optical Disordered Media: Applications in Biological and Soft Matter Systems


Host: Dr. Lamiaa El Fassi


Abstract:

Scientific interest in measuring and quantifying meso- to nanoscopic light transport properties of weakly optical disordered media ranges from dielectric soft condensed matter systems, such as colloids, to biological systems, including cells and tissues. However, conventional optical microscopy cannot probe the weak refractive index fluctuations found, for example, in biological cells, which possess weak scattering properties. Moreover, the diffraction limit cannot be exceeded by standard optical microscopy. Recently, however, we have developed experimental optical spectroscopic techniques that do, in fact, enable us to probe the transport properties of weakly disordered media, such as biological cells, with nanoscale sensitivity beyond the diffraction limit. In this talk, I will first describe the genesis and functions of these novel techniques. Next, I will discuss their practical applications in the study of biological and soft matter systems, including the early-stage detection of cancer and brain abnormalities by probing and quantifying the nanoscopic light transport properties of single biological cells.
Jan. 21st, 2022 Dr. Ciprian Gal, Department of Physics & Astronomy, Mississippi State University



Parity Violating Electron Scattering from E122 to the EIC


Host: Dr. Lamiaa El Fassi


Abstract:

A new golden age for nuclear physics in the United States is coming. With the currently upgraded CEBAF accelerator at Jefferson Lab, the under construction Facility for Rare Isotope Beams, and the projected Electron Ion Collider (EIC) facility, we are on the cusp of new discoveries and deeper understanding of the universe. In this talk I will discuss how probing one of the fundamental symmetries of the Standard Model, namely parity, can expand the range of measurements we can do with electron scattering. Since the development of the technique for the E122 experiment a great deal of progress has been made and currently we are in an era of high precision measurements that can probe physics beyond the Standard Model on par with other high energy collider experiments. The versatility of the technique has been highlighted over the years through measurements of the strange contents of the proton and determinations of the neutron radius of heavy nuclei. Finally, at the EIC we expect to be able to use similar techniques to better understand protons and neutrons, which give about 90% of the mass in the visible universe.
Upcoming Colloquia/Seminars
Feb. 4th, 2022 Dr. Gombojav Ariunbold, Department of Physics & Astronomy, Mississippi State University



TBD


Host: Dr. Lamiaa El Fassi


Abstract:

Place-holder.
Feb. 11th, 2022 Dr. Luisa Rebull, Science & Data Center for Astrophysics & Planetary Sciences (IPAC), California Institute of Technology



Stellar Rotation in Young Clusters using K2 and TESS


Host: Dr. Angelle Tanner


Abstract:

K2 has provided a phenomenal opportunity to study properties of stars in clusters, particularly young low-mass stars, far beyond the expectations of the original Kepler mission. The high-precision photometry provided by K2 allows us to probe stellar variability to lower masses and lower amplitudes than has ever been done before. Younger stars are generally more rapidly rotating and have larger star spots than older stars of similar masses, so spots rotating into and out of view reveal the (surface) rotation rate of these stars. K2 has monitored stars from several clusters, most notably Rho Oph (~1 Myr), Taurus (~5 Myr), USco (~20 Myr), the Pleiades (~125 Myr), and Praesepe (~700 Myr). The light curves have yielded thousands of rotation rates, and revealed far greater diversity in light curves than was anticipated. Now that we have TESS data as well, we can add the Upper Centaurus-Lupus (UCL) and Lower Centaurus-Crux (LCC) young moving groups (~15 Myr). In this talk, I will review the K2 results and present early results from UCL/LCC.
Feb. 18th, 2022 Dr. Laura McCullough, Department of Chemistry and Physics, Wisconsin's Polytechnic University (UW-Stout)



Standards Based Grading for Introductory Classes (TBC)


Host: Dr. Dipangkar Dutta


Abstract:

Place-holder.
Feb. 25th, 2022 Dr. Breese Quinn, Department of Physics & Astronomy, University of Mississippi



TBD


Host: Dr. Lamiaa El Fassi


Abstract:

Place-holder.
Mar. 4th, 2022 TBC,



TBD


Host: Dr. Chuji Wang


Abstract:

Place-holder.
Feb. 11th, 2022 Dr. Jun Chen, Department of Bioengineering, University of California, Los Angeles



TBD


Host: Dr. Kun Wang


Abstract:

Place-holder.
Mar. 18th, 2021 Spring Break: No Colloquium; Enjoy :) and be Safe!
Mar. 25th, 2022 Ms. Saja Teeti and Ms. Udeshika Perera, Department of Physics & Astronomy, Mississippi State University



TBD


Host: Dr. Lamiaa El Fassi


Abstract:

Place-holder.
Apr. 1st, 2022 Dr. Manavi Jadhav, Department of Physics, University of Louisiana at Lafayette



TBD


Host: Dr. Dipangkar Dutta


Abstract:

Place-holder.
Apr. 8th, 2022 Dr. Adriana Moreo, Department of Physics & Astronomy, University of Tennessee at Knoxville



TBD


Host: Dr. Dipangkar Dutta


Abstract:

Place-holder.
Apr. 15th, 2021 Easter Break: No Colloquium!
Apr. 22nd, 2022 Dr. Mary Kidd, Department of Physics, Tennessee Technological University



TBD


Host: Dr. Lamiaa El Fassi


Abstract:

Place-holder.
Apr. 29th, 2022 Dr. Zahra Hazari, Department of Teaching and Learning and STEM Transformation Institute, Florida International University



STEP UP: Supporting Teachers to Encourage the Pursuit of Undergraduate Physics for Women


Host: Dr. Lamiaa El Fassi


Abstract:

Place-holder.
Past Colloquia/Seminars
Nov. 19th, 2021 Cancelled; Enjoy your Winter Break :)!
Nov. 12th, 2021 Dr. Shengxi Huang, School of Electrical Engineering and Computer Science, Pennsylvania State University



Designer 2D materials for new sensing paradigms


Host: Dr. Kun Wang


Abstract:

Emerging 2D quantum materials have gained increasing attention due to their unique electronic and optical properties, and have shown promise in sensing applications. The realization of sensing devices using these materials still faces several challenges. For example, it is critical to gain clear understandings of (1) the fundamental light-matter interactions and their relations to the atomic structures, which govern many key material properties and device performances; and (2) the coupling with other nanostructures and molecules, which is a required structure for sensing devices and systems. This talk introduces new discoveries and pioneering works on these critical challenges, and novel applications of these materials in biochemical sensing. The first part of this talk presents multi-dimensional engineering techniques to augment material performance, including 2D Janus conversion, 1D nanoscrolling, and 0D atomic defect creation. The characterization techniques employed, including low-frequency Raman spectroscopy, polarization- and time-resolved spectroscopy, and ultrafast electron diffraction, can be widely used in other material systems. The second part of this talk focuses on the interaction of 2D materials with organic molecules and related sensing applications. In particular, a novel enhancement effect of molecular Raman signals on 2D surface was discovered, which offers a new paradigm of biochemical sensing with high specificity, high multiplexity, and low noise. The selection rule for the 2D material substrates has been revealed, which is critical for device design. Two sensing applications for Alzheimer's disease and respiratory viruses will also be discussed. Overall, the works presented in this talk are significant in fundamental quantum science, and offer important guidelines for practical applications in sensing and quantum technologies. The methodologies used here also provide a framework for the future study of many emerging materials and sensing scenarios.
Nov. 5th, 2021 Dr. Gabriela González, Department of Physics & Astronomy, Louisiana State University



Gravitational Waves Astronomy


Host: Dr. Dipangkar Dutta


Abstract:

The first detection of gravitational waves in 2015 by the LIGO detectors, created by the merger of black holes more than a billion years ago, was followed by several other signals from black holes. In 2017, the merger of neutron stars was detected by LIGO and Virgo detectors and by gamma-ray telescopes, and was found by many electromagnetic observations too: a new era of gravitational wave astrophysics has started with very bright prospects for the future. LIGO and Virgo took data again for a year in 2019-2020, and many more merging black holes and neutron stars have been discovered. We will describe the technology involved in the LIGO gravitational wave detectors, details of the latest discoveries and the exciting prospects for more detections in the next years.
Oct. 29th, 2021 Dr. Edward (Denny) Dahl, Quantum Applications Director, ColdQuanta



Building a quantum computer from Cesium atoms


Host: Dr. Mark Novotny


Abstract:

Over the past few years, people have begun building quantum computers using superconducting qubits, trapped ion qubits, photonic qubits and spin qubits. The newest technology is the cold atom approach. This technology shares much with trapped ions, but since cold atoms are neutral, there are significant differences in the scalability and performance characteristics of a cold atom system. During this talk, I will describe the approach taken by ColdQuanta to build a complete digital gate-based cold atom quantum computer.
I will present an overview of the cesium atom approach and mention the connection to its clock states, which have formed the basis of the definition for the second since 1967. I will describe the mechanism used to stabilize the two-dimensional array of qubits. I will also describe the Rydberg excited states of the cesium atoms and the unique features of these states that make them ideal for implementing entangling gates.
A cold atom system possesses unique features that promise to make it an effective quantum platform. High qubit count, long coherence time and scalable connectivity differentiate this platform from other modalities. The challenge is to understand how these features interact with different quantum circuits. Simulation at scale is not possible for these systems and so we will need to gather empirical data to help guide our development of quantum circuits and algorithms to make effective use of this hardware.
Oct. 22nd, 2021 Dr. Roman Liera, Department of Educational Leadership, Montclair State University



Learning legitimacy: Exploring the transition to doctoral candidacy in the physical sciences


Host: Dr. Dipangkar Dutta


Abstract:

The transition to candidacy is a common attrition point within the doctoral journey; however, it is both undertheorized and underexamined. We examined how students and faculty in highly ranked and lower ranked physical sciences PhD programs construct the transition to candidacy, how the candidacy process mediates learning, and how students are socialized into disciplinary norms that maintain inequalities. Through comparative case study, we find the transition to candidacy is a process of learning disciplinary legitimacy—students demonstrate or perform it, and faculty evaluate it. We find disciplinary language use is a critical practice for students' sense of belonging, and program status shapes the design of the transition and what candidacy means. We explore implications for student learning and wellbeing.
Oct. 15th, 2021 Dr. Anne Staples, Department of Biomedical Engineering and Mechanics, Virginia Tech



Between the branches: Large eddy simulations of local coral colony hydrodynamics


Host: Dr. Lamiaa El Fassi


Abstract:

Local hydrodynamics play a central role in physiological processes like respiration and nutrient uptake in coral reefs. Despite the importance of reefs as hosts to a quarter of all marine life, and the pervasive threats facing corals, characterizing the hydrodynamics between the branches of scleractinian corals has remained a significant challenge. Here, we present results from large eddy immersed boundary simulations of the flow through and around Pocillopora meandrina, Pocillopora eydouxi, and Montipora capitata coral colonies. The studies suggest that colonies with higher branch densities have more complex mean velocity profiles with three different characteristic regions, while more loosely branched colonies have approximately constant mean velocity profiles along the flow direction; that surface roughness can counterintuitively increase the Reynolds stresses above the colony and hence enhance vertical transport; that passive geometric features of branching colonies produce highly vortical internal flows that enhance mass transfer at the interior of the colony, compensating almost exactly for flows speed reductions there of up to 64% so that the advection time scale remains roughly constant throughout the colony; and that the mean vortex diameter, rather than the mean branch diameter, may be the correct length scale to use to calculate the mass transfer Stanton number for intercolonial coral flows.
Oct. 8th, 2021 Fall Break: No Colloquium; Enjoy :) and be Safe!
Oct. 1st, 2021 Dr. Quinton L. Williams, Department of Physics & Astronomy, Howard University



Application of Carbon Nanomaterials to Li-Ion Batteries


Host: Dr. Dipangkar Dutta


Abstract:

As the adoption of various forms of renewable energy continues to grow worldwide, interest has grown significantly in lithium-ion battery technology as, both, a mobile source of energy and as a stationary energy-storage solution. Additionally, explosive growth in the electric vehicle market has driven a significant increase in research on lithium-ion batteries. For mobile energy sources, the LiFePO4 (LFP) battery is a promising alternative to the successfully commercialized LiCoO2 battery due to its high theoretical capacity (170 mAh g), long cycling life, excellent thermal stability, inexpensive source materials, and nontoxicity. However, a significant drawback is that LFP suffers from poor intrinsic electronic conductivity (~ 10 S cm) and low lithium-ion diffusivity (~ 10 cm s) which results in poor rate capability; thus, practical applications with LFP have been limited.
In this talk, an introductory overview of rechargeable batteries and a brief history of the rechargeable lithium-ion battery will be provided. Then, the presentation of several investigations taken by our research group for improving the electrochemical performance of LiFePO4 and Nickel-Cobalt-Manganese (NCM) batteries in terms of charging rates and specific energy capacity will be given. Finally, a key finding from our studies of the addition of various types of nanomaterials (i.e., metallic nanoparticles, carbon nanofibers, carbon nanotubes, graphene, etc.) will show that the electrical conductivity is a superposition of short-range- and long-range-contributions to an overall effective electrical conductivity. This result provides insight into improving the performance of fast-charging lithium-ion batteries.
Sep. 24th, 2021 Dr. Preethi Nair, Department of Physics & Astronomy, the University of Alabama



Constraining the Demographics of Accreting Supermassive Black Holes and their Role in Galaxy Quenching in the nearby Universe


Host: Dr. Lamiaa El Fassi


Abstract:

Understanding the mechanisms which trigger an Active Galactic Nuclei (AGN or accreting supermassive black hole) and the role of these AGN in galaxy evolution, specifically in regulating or quenching star formation in galaxies, is a highly debated area of study. Theoretically, it is expected that mergers of galaxies should lead to the triggering of an AGN. In fact, this triggering is required by simulations to reproduce the observed properties of galaxies. Unfortunately, confirming that mergers trigger AGN is observationally challenging. The large observed variation in the frequency of AGN in different merger stages (wide/close pairs, merger remnants) are due to a number of factors including obscuration, time delays, AGN luminosities and AGN lifetimes. The overall interdependence of AGN luminosities and lifetimes impacts any correlation that should be seen between merger signatures and AGN frequency. Here I present a volume limited catalog of visually identified close pairs and merger remnants from the Sloan Digital Sky Survey (SDSS). Using this sample, I will present results based on an ongoing NASA Chandra and related NSF project to constrain the AGN frequency and multi-wavelength properties of systems whose merger signature lifetimes are theoretically expected to be similar to low luminosity AGN lifetimes. I will describe the role of the SDSS MaNGA survey, as well as other observational follow-up surveys, in characterizing the galaxy properties of these low luminosity AGN and the cold gas outflows from these systems.
Sep. 17th, 2021 Dr. Edward Thomas Jr., Department of Physics, Auburn University



Using magnetic fields and microgravity to explore the physics of dusty plasmas


Host: Dr. Chuji Wang


Abstract:

Over the last three decades, plasma scientists have learned how to control a new type of plasma system known as a "complex" or "dusty" plasma. These are four-component plasma systems that consist of electrons, ions, neutral atoms, and charged, solid, nanometer- to micrometer-sized particles. The presence of these microparticles allow us to "tune" the plasma to have solid-like, fluid-like, or gas-like properties. This means that dusty plasmas are not just a fourth state of matter – they can take on the properties of all four states of matter.

From star-forming regions to planetary rings to fusion experiments, charged microparticles can be found in many naturally occurring and man-made plasma systems. Therefore, understanding the physics of dusty plasmas can provide new insights into a broad range of astrophysical and technological problems. This presentation introduces the physical properties of dusty plasmas – focusing on how the small charge-to-mass ratio of the charged microparticles gives rise to many of the characteristics of the system. In particular, dusty plasmas can be used to study a variety of processes in non-equilibrium or dissipative systems such as self-organization and energy cascade as well as a variety of transport and instability mechanisms. This presentation will discuss results from our studies of dusty plasmas in high (B ≥ 1 T) magnetic fields using the Magnetized Dusty Plasma Experiment (MDPX) device at Auburn University and in microgravity experiments using the Plasmakristall-4 (PK-4) laboratory on the International Space Station.
Sep. 10th, 2021 Dr. Chanda Prescod-Weinstein , Department of Physics & Astronomy, University of New Hampshire



Large Scale Structure from Microphysics


Host: Dr. Dipangkar Dutta


Abstract:

In this talk, I will describe my efforts to understand the nature of the mysterious dark matter. I provide an overview of the general problem and then describe my current approach to it, which is to characterize the behavior of a proposed dark matter particle, the axion. I will give some insight into how I am using a range of tools -- model building, computation, and high energy astrophysics -- to get at the basic question of "what is the statistical mechanics of axion dark matter?" I will discuss work that shows that the self-interaction should not be ignored and that the sign of the interaction makes a significant difference in the evolution of the system, both for QCD axions and fuzzy dark matter.
Sep. 3rd, 2021 Dr. Benjamin Crider, Department of Physics & Astronomy, Mississippi State University



Principles and Applications of a Gamma-ray Imaging Detector


Host: Dr. Lamiaa El Fassi


Abstract:

The ability to create images of sources of radioisotopes has a long list of applications across a broad range of fields. While the equipment and detectors required to create such images of radioisotopes differs from those required for standard photographs utilizing visible light, many of the same techniques still apply. This general overview talk will explore some of the techniques used to create images of radioactive materials via detection of emitted gamma rays and draw parallels to standard photography that has, in many ways, been performed for over thousands of years. Several applications for images of radioisotopes will be explored, including applications involving sources of environmental radiation being pursued at the Institute for Clean Energy Technology here at Mississippi State University.
Aug. 27th, 2021 Dr. Torsten Clay, Department of Physics & Astronomy, Mississippi State University



The spin ladder to nowhere


Host: Dr. Lamiaa El Fassi


Abstract:

High temperature correlated electron superconductivity is one of the most exciting areas of condensed-matter physics, but more than 30 years after its discovery it is yet to be understood. Many relatively simple (although still very difficult to solve) models have been proposed for the high T_c cuprates since then. One common assumption has been that the oxygen atoms in the copper-oxygen planes may be ignored and a simpler Cu-only single-band model can explain superconductivity. This model is well understood in the limit of a ladder, where spin singlets on each rung of the ladder take the place of Cooper pairs, and calculations on ladders find quasi-long-ranged superconducting correlations. In this talk I present results of large scale numerical calculations of pairing correlations on cuprate ladders, including both copper and oxygen orbitals. We find that in realistic cuprate ladder models the long-range superconducting order is suppressed. This shows that ladder physics, now more than 25 years old, is not relevant to superconductivity in the cuprates. Our results strongly suggest that any minimal model must include the oxygen orbitals of the copper-oxygen planes.
Aug. 20th, 2021 Dr. Angelle Tanner, Department of Physics & Astronomy, Mississippi State University



From Orbits to Einstein: 25 years of Galactic Center Research


Host: Dr. Lamiaa El Fassi


Abstract:

Over the past few decades, our knowledge of what lurks within the core of our Milky Way galaxy has evolved along with the instruments used to study it. The confirmation of the existence of the super-massive black hole, Sgr A*, was only the beginning. In addition to tracking the orbits of over a hundred S0 stars to estimate the mass of the black hole at 4.154x106 solar masses, we have noticed that they fall into different populations, interact with their environment and are influenced by the presence of the black hole when forming. In 2011, we discovered a cloud of gas, named G2, would pass a little too close to the black hole. It did just that and survived. Over the past few years, advances in telescope instrumentation have paved the way for extremely precise measurements of the orbits of the stars in the inner-most regions near the black hole at a few hundred astronomical units (AU). This includes the star, S0-2, which completes its orbit around the black hole every 17 years and has a closest approach of about 120 AU. During its latest closest passage in 2018, investigations with the biggest infrared telescopes in the world allowed us to study the effects of General Relativity on the star via gravitational redshift and orbital precession. It was this culmination of the direct confirmation of the predictions of GR that helped Drs. Andrea Ghez and Reinhard Genzel be awarded the 2020 Nobel Prize in Physics. As a member of Dr. Ghez's research team during my time at UCLA, I was witness to some of the first revelations about the nature of the black hole. I'll discuss the exciting history of the study of this unique location within our galaxy and point the way to what kinds of new discoveries we hope to make about it in the next few decades.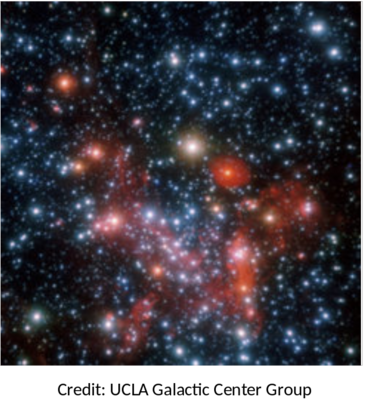 2021-2022 Committee

Lamiaa El Fassi (Chair) (325-0627, le334@msstate.edu email)
Dipangkar Dutta (325-3105, d.dutta@msstate.edu email)
Seong-Gon Kim (325-8031, kimsg@hpc.msstate.edu email)
Prabhakar Pradhan (325-6626, pp838@msstate.edu email)
Kun Wang (325-2806, kw2504@msstate.edu email)
Chuji Wang (Spring-22 ONLY) (325-9455, cw175@msstate.edu email
Jinwu Ye (Spring-22 ONLY) (325-2926, jy306@msstate.edu email
Secretary: Susan Galloway (325-2806, srg133@msstate.edu email)



---
Back to Dr. El Fassi's Page